Tiny Hands
that Hold My Heart
God cherishes the life that is growing within you, and He is watching over your baby's development with the utmost care. So come and take a peek inside to see your baby as God does and may your pregnancy and birth be blessed.
God has had a plan for your baby since day one!
Tiny Hands that Hold My Heart celebrates life by chronicling the nine months of pregnancy with breathtaking photography from inside the womb and relevant scriptures. It was written as one message for two unique audiences.
Tiny Hands was written as a gift book for expecting mothers who are excited and waiting in anticipation for the birth of their baby. Tiny Hands was also written as a booklet to give to women facing crisis pregnancies.
Pregnancy is an emotional time and should be a time of rejoicing; however that is not always the case. In the United States, one in every two pregnancies is unexpected or unplanned and one in every three pregnancies is terminated by abortion.
Within the pages of both the gift book and the crisis booklet is a message of hope and encouragement. God's Word does not change – whether you are in a situation of great excitement or one of great despair.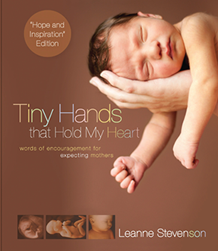 Encouraging softcover edition that provides a message of hope, love and life to women in an unplanned pregnancy.
Beautiful hardcover edition with scriptures and photos to provide a woman with encouragement and peace.
"By far, 'Tiny Hands' is one of the most valuable gifts to an expectant mom. Had I been given this book when I found myself in an unplanned pregnancy I would have chosen life. Being allowed to glimpse the breathtaking wonder of life from the moment of conception through 'Tiny Hands', has the potential to change the world."
"Leanne has courageously written this beautiful story of life beginning at conception. This book has the ability to change the destiny of women, men and children. I recommend every pastor to get this book in the hands of every woman in their church."